I was recently tagged by
Thoroughly Modern
to post six items I keep in my bag.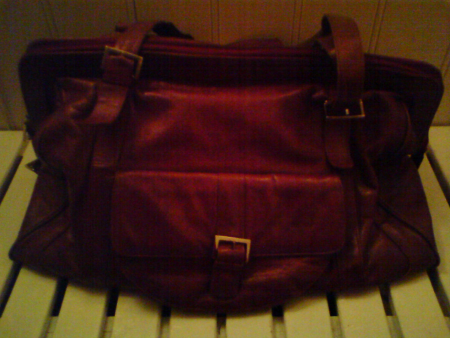 The bag.
One of my big obsessions is bags. Most people know I won't think twice about spending ridiculous amounts of money on a bag if I really want it. That's why I try to stay away from stores in my town that sell wonderful bags and purses. I can't control myself when it comes to bags. On my way to work the other day I noticed Morris was having a big sale and I just had to have a peek. Well, turns out this gorgeous chocolate brown leather bag is 50% off and I JUST HAVE TO HAVE IT. It's still expensive though, so I'll have to work a lot next week to save up the money :(
Anyway, at the moment I'm carrying around this wonderful brown leather bag by Balsac.
I bought it over a year ago
and still love it just as much as I did back then. I get compliments on it all the time. Like last week when a woman stalked me around H&M and suddenly came up to me, asking where I got it from. I told her and she continued telling me how lovely it was, how long she had been looking for something like it etc. But when she started feeling the leather it got kind of weird, so I left. lol.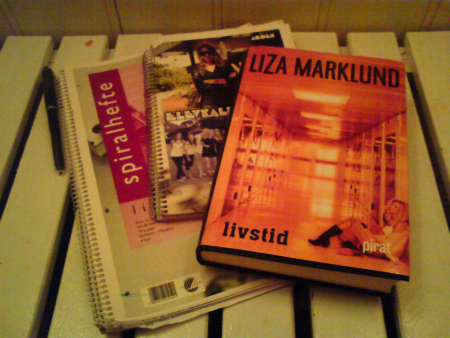 Notebook, day-planner and a magazine/good book.
I go to school everyday so naturally I have to carry a notebook and pen with me at all times. Another thing I can't live without is my day-planner. I write all my appointments, homework assignments, tests, work hours, gym classes and personal encounters in it. I'm a total mess without it and don't remember anything. Usually a day without my day-planner results in angry calls and drama. I'm always on the run and usually carry a magazine with me to read on the bus, or when I get bored at school. But at the moment I'm reading "Livstid" (lifetime) by Liza Marklund. It's such an exciting book and I read a few pages whenever I get the time. The story is about a Swedish cop who gets killed in his own home. His wife is charged with murder and found guilty even though she claims she never killed him. Only her friend and a curious journalist believes her... I can't wait to find out what happens next!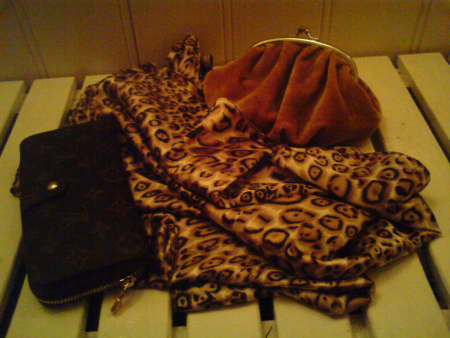 Wallet, make-up bag a scarf.
Of course I always have my wallet with me. I feel naked without my credit cards and ID! My wallet is a cheap looking fake LV copy my dad bought for me when he went to Thailand a year ago. I hate it more than anything and I'm quite offended that my dad doesn't know how much I hate fake design stuff. But at the moment I didn't have a wallet and started using it. The only thing I like about it is the size -perfect. Still, I've been looking for a new wallet for a while, but always find something else to spend my money on. And then there's my make-up bag... not that I use a lot of make-up or anything, but I like to have it with me. I'm always running late, so it's nice to dab some mascara on wherever I'm at. Also, a scarf! I love scarves and if I'm not wearing one I have one in my purse, just in case I change my mind. It's such a great accessory. Love.
I'm horrible at keeping track of who's been tagged and who hasn't, so if you want me to tag you send me an e-mail, or something
:)