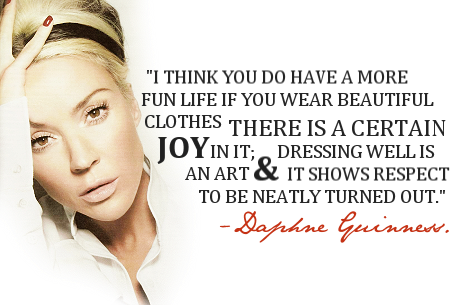 I've never been a Guinness fan. It's something about the taste that makes it so different from other types of beer. When I think of Guinness I get this picture of an old drunken man, who's sitting alone in a dark corner of a shabby pub and probably hasn't showered in three days. Maybe people drink it when their taste buds are so destroyed from ten years of chain smoking and drinking that the only beer that actually tastes anything is Guinness. Urgh, it's just horrible! Maybe I'll learn to like Guinness someday but for now I'm sticking to Budweiser, Tuborg and Newcastle Brown Ale. But even tough I think Guinness tastes horrible, I doubt any other beer brand has such a lovely heiress. I've become a secret admirer of Daphne Guinness and her style. She's a wonderful fashion stylist, film producer and, yes, a member of the Guinness brewing family. Known for her elegant and original dress sense and love for couture...
"The thing about haute couture, unlike prêt-à-porter clothing, is that you actually have to engage with the process and repeatedly go for fittings. Couture clothes last so much longer because so much work goes into them. [...] I still buy couture, but very little and very carefully, because it's so expensive. The last piece was a small coat-dress from Chanel, which I've worn about 50 times already."
I really enjoyed reading
this
article about her at
timesonline
and find everything she has to say about fashion inspiring and refreshing. With LiLo, MK, Paris and occasionally the drunk "it's Britney Bitch" stealing all the spotlight, Daphne is like a long lost treasure. She's the perfect example of what Glam & Tonic is really about. The reason why I created this blog is my admiration to strong, intelligent, glamorous women and their fashion sense. Daphne Guinness being one of them.
"One of the problems with modern fashion is that people change all the time. There are very few people who keep their look through thick and thin – the Duchess of Windsor did. Years ago women had to make things last and clothes weren't disposable – they couldn't just go out and buy another thing."

"I grew up in an artists' colony near Barcelona with Salvador DalÍ and the Surrealists, so my dress sense is very coloured by my youth. Everybody knew that DalÍ was the most crazy; you'd go to his house and he would have lobsters in his pool. Anything went, clothes-wise. You could wear whatever you wanted any time of day, so people would wear evening clothes at breakfast time, simple Catalan shoes and hats, lots of brightly coloured hippy kaftans, and a lot of French, tailored outfits."
"My weird obsession with armour might have come from the Surrealists. I have been making a metal arm as part of a four-year project. It's jewellery but more a work of art. It's made out of silver chain mail with a piece over the hand. I've been trying to make a pair of robot legs-style leggings for years, so when I saw the gold metal-look trousers by Balen-ciaga I thought they were so extraordinary that I really wanted them. Usually, however, I hate the concept of "must-haves". Once something is a must-have, I want to put it in the bin. I know that sounds grand and horrid, but I don't want anyone to tell me I need to have anything. I'm not very good at "It" bags, either. I've had the same bag for about five years and I can't be bothered to get another one. So many bags are really heavy – especially those Chloé Paddington things."
So, to sum up what I've learned from Daphne:
Instead of buying new stuff all the time and chasing all the latest trends, spend money on classic, versatile clothes with a great cut. It's better to have one pair of fantastic pants instead of ten you never wear.
Why shouldn't you be able to wear whatever you want any time of day? I think people focus too much on what they are supposed to wear and what's "appropriate". Just because you're going shopping doesn't mean you can't wear the gorgeous new dress you just bought. Put it on and dress it down with a casual cardigan etc.
Maybe it would be fun to attempt creating your own jewelry? Or D.I.Y something to put your own personal stamp on it... maybe not armour, but something else?
If I ever get ridiculous amounts of money, invest in some couture.
And now you probably know what's next... as you all probably know by now I have a polyvore addiction and couldn't resist putting together some Daphne Guinness looks. Even though my personal style is completely different from hers, I would wear all these outfits.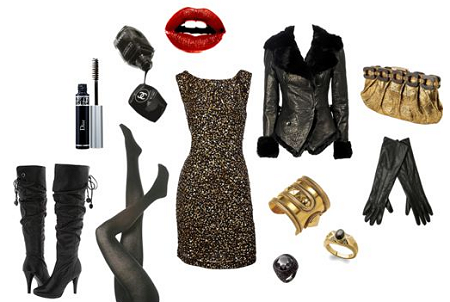 Dress:
DKNY
Boots:
Zappos
Jacket:
Thomas Wylde
Purse:
Vivre
Armour
bracelet:
Vivre
Rings:
Hematite Pavé Ring, London Gold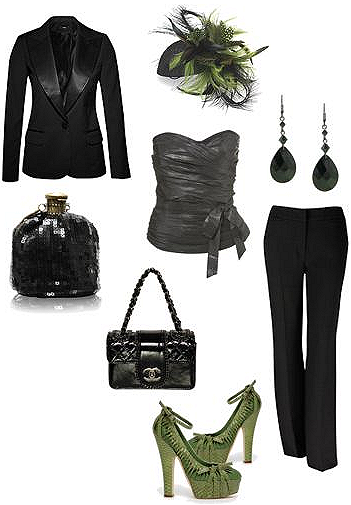 Jacket:
H&M
Pants:
Austin Reed
Leather top:
Topshop
Shoes:
Dior
Purse:
Chanel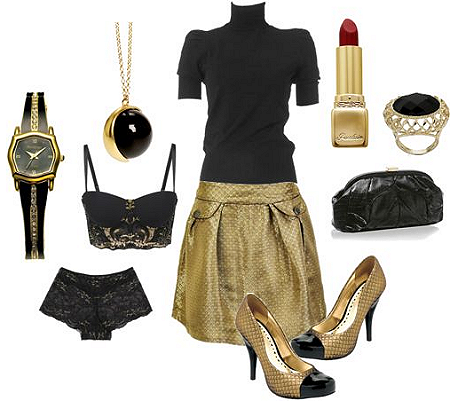 Skirt:
Oli
Top:
Dorothy Perkins
Shoes:
Instyle
Ring:
Ross Simons
Necklace:
Mint and Vintage
Purse:
Asos
Underwear:
Lindex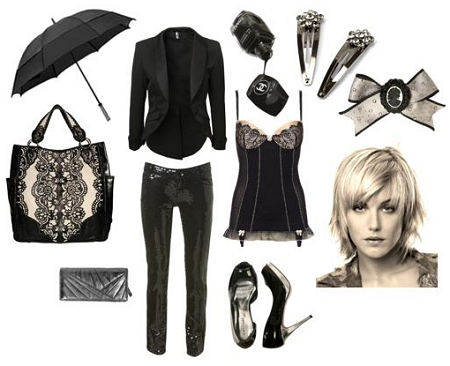 Sequin pants:
Topshop
Jacket:
Topshop
Corset:
Oli
Purse:
Bag Borrow or Steal
Wallet:
Adasa
Shoes:
Wet Seal
Accessories:
Monsoon, Tarina Tarantino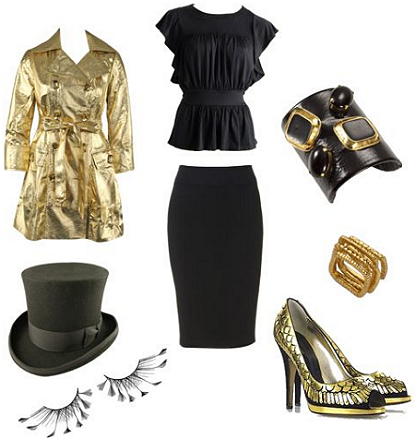 Metallic coat:
Wet Seal
Top:
Republic
Skirt:
Wallis Fashion
Tophat:
Village Hat Shop
Lashes:
Buy Costumes
Shoes:
Roberto Cavalli
Ring:
Max and Chloe
Bracelet:
Vivre
Also, when I searched her name the other day I found this wonderful scan from ELLE magazine on Daphne's amazing style. Love it.