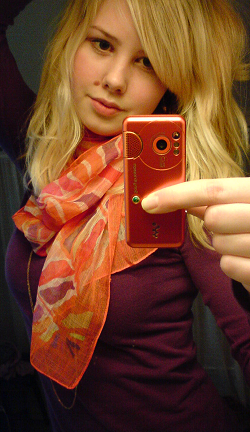 January has to be the most depressing time of year. When I get up in the morning it's dark. When I get home it's dark. So for fun I decided to wear a bit of colour today. I really love this scarf, but hardly ever wear it. Bought it last summer at Rasmus.

Looking forward to:
-Gossip girl
-Ugly Betty
-Eating a bag of sørlands chips.
-Going out this Saturday. Havanna, baby!
-Getting my paycheck tomorrow.
-Moving to my own place soon :D

Not looking forward to:
-Test on Friday.
-Work on Friday and Saturday.
-Finishing my essay on Norwegian books (10+ pages).
-Having to cut down on some of my expensive habits when moving to my own place... e.g. shopping/partying :( replacement? electricity bills and paying for my own food.