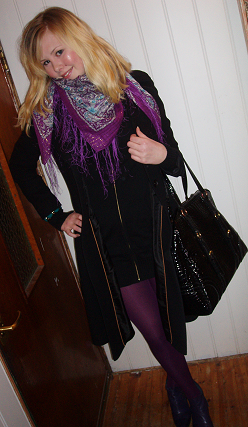 Scarf:
Only,
Coat:
Carla F,
Bracelet:
H&M, S
weater dress:
H&M,
Purse:
Morris,
Tights:
H&M,
Shoes:
Vagabond.
It looks like this is going to be a pretty busy weekend, so sadly I won't have much time to update my blog until Monday. Met up with Inger today, which was great because I haven't seen her in a while. I ate the best chicken bagel ever at this place called Glipp. Also, Kristin went to the hairdresser today and got a perm! A PERM! She's awesome and it looks fantastic on her. I wish I had a picture ;)
Friday:
School and then I have to go straight to work. Won't be home earlier than 10 at night. Probably tired, straight to bed.
Saturday:
Have to work from 10 in the morning to 4 in the afternoon. Then I'm going out to eat with my dad... I'm in the mood for some Mexican food. Going out with some friends... I think I might drink wine this weekend instead of the usual beer. Hm..
Sunday:
Erm, probably a bit hungover. Have to help my uncle with the new apartment and then I've been invited to Malin's place to hang out and make Christmas decorations with some girls from my class. Might be fun.
Have a nice weekend, everyone
:)