THE TREND
If you've browsed trough runway shows on the web or flickered trough any fashion magazines this spring I'm sure you've seen at least a hundred pictures of gorgeous models walking down the runway wearing tiny shorts in various shapes and colours. This super flirtatious spring trend has made many fashion addicts out there squeal of joy... and then caused a lot of worries on how to get the legs to wear them. As soon as I get some colour on my legs and have went trough a very painful session of waxing I am pulling on my pair of shorts. Meanwhile this is a tribute to the wonderful piece of clothing <3
GO BRIGHT
For some people summer is all about colour and luxurious floral prints. If you're one of this people there are many ways you can wear a pair of shorts and look great in colours. If you're daring enough try a pair of hotpants in a bright colour to add a vibrant and young twist to your outfit. If you like colours, but feel like bright hotpants is just a little too much for you there are other ways you can wear shorts. Try something like the Sari Gueron outfit and wear a little colour with a simple white top to "tone it down". And of course a pair of denim shorts or cut-offs look great with a simple bright coloured top. If you feel the last one is a little plain add a nice belt or some great golden accessories.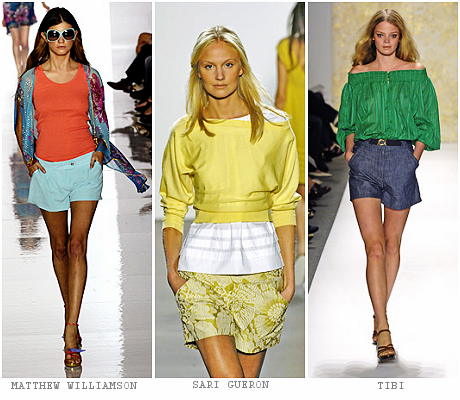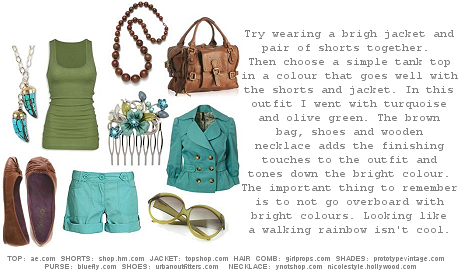 TOUGH TOMBOY
Who said showing of your legs has to be girly? There are many ways you can wear a pair of short and keep your street smart tomboy look. Go for shorts in dark and neutral colours with a "unisex cut". Wear it with a cool jacket and funky accessories, like a big leather bag or a thick belt around your waist. A simple top made from a soft fabric (like silk or satin), killer heels and glamorous shades will add some feminine touches to your outfit... it's all about finding the balance between feminine and masculine.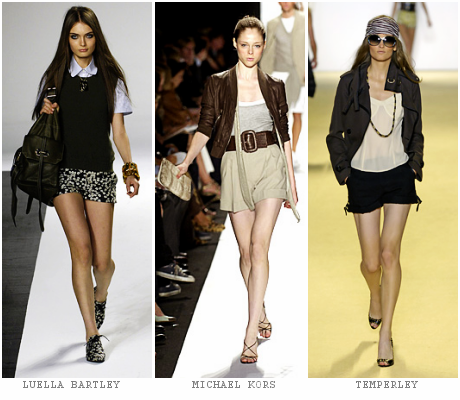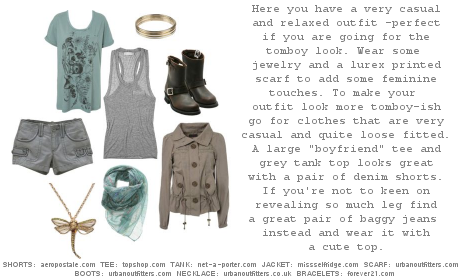 LIGHT AND SIMPLE
You can't go wrong with light colours this summer. Still, when you're wearing light colours the outfit can easily end up looking too plain and boring. The key is to choose fabrics and accessories well. Like seen at Zac Posen a white vest and pair of shorts can look so amazing and sexy with a off-white shirt in a silky fabric. Instead of shocking colours choose neutrals in different shades that go well together.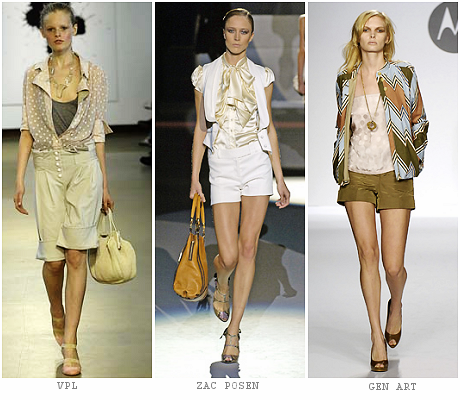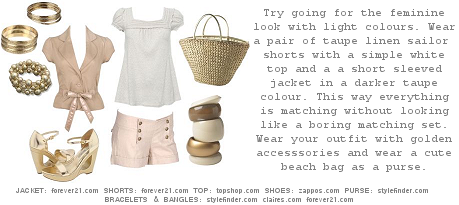 ADD A LITTLE SPARKLE
Who said shorts can't be worn to a party or formal dinner? Add a delicate shirt with a hint of sequins, or wear a dressy top and shorts made of silk for a very sophisticated and dressed up look. A pair of shorts and a top in the same colour will also look great with a dressy coat, or jacket. Wearing shorts to a formal event will make you look relaxed and trendy... and of course the best thing about it is you'll feel great!