This fall you should turn to grandpa for some fashion advice.
If you've had time to flicker trough some pictures from the fall 07 runway you might have noticed that grandpa's old wide leg pants and vintage knits have been picked up by many of the greatest designers. With their magic touch they have turned the clothes from old rags that smell like cat pee to must have designer pieces. At first glance this new trend may seem "unfeminine", or make you think "I could never pull something like that off". Wrong. In fact this can be a very feminine trend if you wear the clothes with the right accessories and imagine all the money you'll save on clothes now that you can go thrift shopping and look around the attic for unique pieces to spice up your fall wardrobe.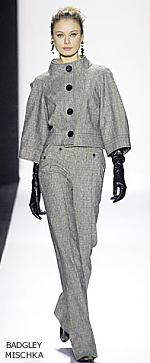 1. WIDE LEG PANTS


As you can see wide leg pants are a must have this fall, but if you're not comfortable wearing them there are many other ways you can pull this trend off without a pair. Try wearing cigarette pants, or thick wool leggings.



2. LARGE WOOL SWEATER


A way to stay warm and still look fashionable this fall. There are many different styles, shapes and colours to choose from. A loose fitted knit jacket will dress down the outfit if you're wearing a silk top and feminine skinny jeans. A cute short cashmere sweater will keep you from looking too boyish when wearing wide leg pants.



3. THE RIGHT ACCESSORIES


Remember -having the right accessories is the key to pull this trend of. If you're wearing a large sweater it's nice to have a belt in your waist to keep things feminine, a pair of nice heels will make you look glamorous in wide leg pants and a nice large necklace can bring life to a boring wool sweater.




You can easily turn a lumpy old sweater into a fashion must have this fall. To illustrate my point I decided to build an outfit around this rather boring brown cardigan. The cardigan itself isn't really that interesting but when you add a funky scarf, cool heels and fun jewelry it doesn't look half that bad. Click

here

for product details.




I'm sure most of you will agree with me when I say vintage looking jewelry can add a very unique and special touch to your outfit. In this outfit I think the jewelry really completes the look. Click

here

for product details.





What to do with a pair of old gloves and a classic fedora hat? When you're wearing these as accessories you want your outfit to look more youthful and modern. For examle, wearing these two items with wide leg pants and a trench would look old fashioned and boring. Try putting together an "all black" outfit -which is also a huge trend this fall. A bomber duffle coat, supper skinny jeans and new pair of black boots will look great! Add some colour to your outfit with the rest of your accessories -like this bright red chanel bag, scarf and necklace. Classic and cool. Click

here

for product details.



I'm sure you can find an old trench coat lying around. If you don't -why not get this super cute trench jacket from topshop? Wear it with a pair of wide leg trousers, vintage looking accessories and a classic bag to complete your look. Click

here

for product details.